Pastasalat med kylling
og sennepsdressing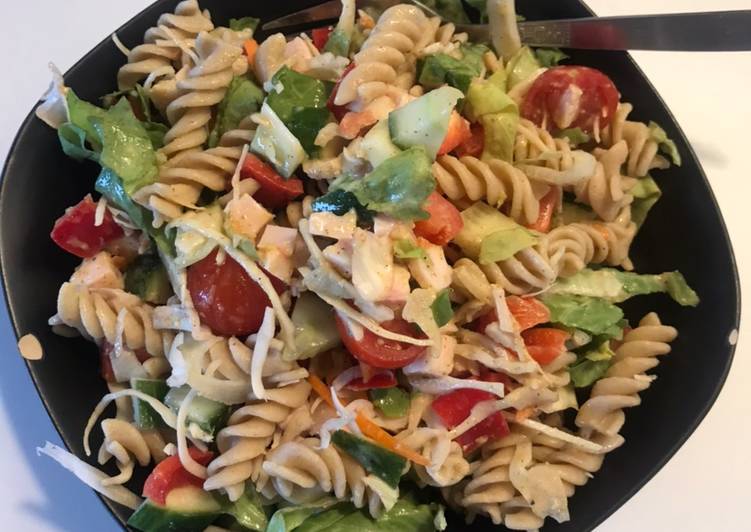 Nedenstående finder du en opskrift på pastasalat med kylling og sennepsdressing. Opskriften er lavet af Alexander Holm. Hans instagram er @alex_healty21.
Du finder her indholdet til 2 portioner:
100 gram ukogt fuldkorns pasta
150 g færdig kogt kylling Dulano Lidl
100 g færdigskåret blandet salat
100 g agurk i tern
100 gram skrået i halve tomater
100 gram rød peberfrugt i tern
Dressing
20 g stærk/sød sennep your choice
1-2 tsk flydende sød (Lidl)
1-2 tsk æblecider eddike
1-2 spsk vand
Sort peber
Step 1: Start med at kog pastaen efter anvisningen på posen.

Step 2: Skær imens alle grønsagerne i tern og hæl det over i en står skål, hæl den færdig kogte pasta i.

Step 3: Lav så dressingen ved at rør alle tingende sammen og hæl den over salaten og pastaen. Rør rundt og servere den i 2 skåle. Velbekomme
Pastasalat med kylling og sennepsdressing
Her finder du en opskrift som er nem at følge og de fleste hurtigt kan skaffe indholdet til. Ovenstående er til 2 portioner, men vil man have mere, så kan man selvfølgelig bare gange op. Vil du eksempelvis have til 4 portioner, så ganger du bare ovenstående med to. Super nemt og lige til. Du finder også en step by step guide til, hvordan du laver retten. Hvis du har nogle gode opskrifter, som du gerne vil dele med folk, så skriv til os på info@fitit.dk. Hvis vi finder dem gode, så kan det være, at det er dig, som bliver delt på siden.
Pastasalat med kylling - højt proteinindhold
Opskriften her har et højt proteinindhold. Dette skyldes i høj grad kyllingen. En kyllingefilet indeholder gennemsnitligt omtrent 20-22 gram protein. Protein er det som du skal bruge, hvis du vil opbygge mere muskelmasse. Du skal selvsagt have styr på træning og kost generelt, men protein er det, som man kalder musklernes byggesten. Vil du have stor på både kost og træning, så kan du med fordel tjekke resten af vores side ud.